Artificial Turf for Playground - Floorings for Multipurpose areas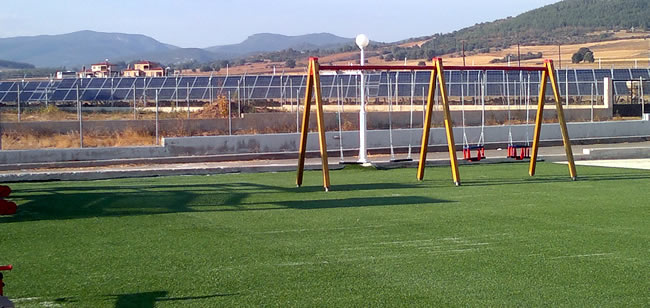 Artificial turf, ideal for the construction of floorings in playgrounds, school yards, playschools, kindergartens, as well as in multipurpose areas, appropriate for children and people with special abilities or disabilities.
Artificial turf is quickly installed, needs very little maintenance, it is wear-resistant against time and hard weather conditions. All these make the decorative grass ideal for playground and recreation areas floorings applications.
Pile height: 18-22mm
Color: Green
Infill materials: Silica sand or without infill (according to the type of artificial grass)
Warranty: 5-6 years
Characteristics
Safe for children and environmentally friendly


The artificial turf proctects from injuries when falling. The

composition of the material excludes all hazards regarding environmental pollution. The product is harmless to the soil or underground waters. It's anti-polluting, UV-resistant, anti-parasitic and noise-absorbing.

High UV-Stability


Artificial turf's unique elements and its manufacturing technology guarantee its perfect performance and resistance even in areas with high levels of solar radiation.