Basketball/Tennis Elastic Acrylic Courts, Thickness 2-3mm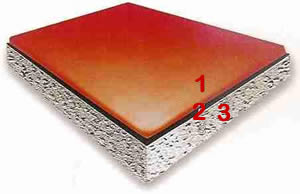 1. Elastic sports flooring for basketball courts.
2. Asphalt or acrylic emulsion.
3. Asphalt - industrial flooring.
The athletic elastic flooring is ideal as a coating on asphalt at outdoor courts, for the contruction of basketball, tennis, volleyball and handball courts. It is made from a mixture of acrylic resins with silicates, ideal for intensive use of outdoor courts.
For the construction of basketball-tennis courts, the final surface of the court is initially cleaned from grease, dust or other impurities that prevent the installation
of the elastic sports flooring. For the implementation of final sports surface, it is required to level the natural soil with 3A and asphalt with inclinations, so that it does not present potholes and water retention. Following we apply a pre-coating with special, self-leveling, asphalt or acrylic emulsion. The installation
of the elastic flooring is made with acrylic, elastic, synthetic materials in successive cross layers, until we get a total thickness of 2-3mm.
Το ακρυλικό σύστημα PRO FLEX. M, αποκλειστικής αντιπροσωπείας της CONSPORT, με εφαρμογή δύο σταυροειδών στρώσεων ακρυλικού γαλακτώματος PRO FLEX. M και δύο σταυροειδών στρώσεων ακρυλικού χρώματος γηπέδων PRO FLEX. M είναι πιστοποιημένο από τη διεθνή ομοσπονδία αντισφαίρισης (ITF), με ταξινόμηση στη μεσαία κατηγορία.
The acrylic system PRO FLEX. M is an exclusive represantation of CONSPORT. For the installation, we first apply two cross-layer PRO FLEX. M acrylic emulsion and then two cross-layer PRO FLEX. M acrylic top coat. The PRO FLEX.M acrylic system for sport floorings is certified by the International Tennis Federation (ITF), classified to the medium class.
The colours used for the construction of the final surface of basketball and tennis courts are green, red-clay, yellow, blue or a combination of two of them, according to the G.S.S. specifications.
The lining of the court is made with white or coloured lines with colours that are resistant to wear due to intense use in ultraviolet radiation, similar to the colors of the coating. They are non-skid, uniform and seamless. The surface is flexible, anti-skid, resistant to wear due to sport shoes and UV radiation, it has resilience and it is fire-resistant. The maintenance is done by means of a simple sweep or washing, in case it is very dirty. Generally the acrylic elastic sports flooring is cleaned by natural rainfall.