Elastic surface for Indoor and Outdoor Sport Courts, Thickness 4-10mm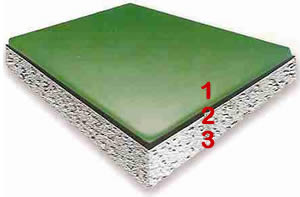 1. Athletic elastic surface.
2. SBR rubber roll.
3. Industrial flooring.
The athletic elastic flooring is ideal for the contruction of indoor floorings and outdoor basketball, tennis, volleyball and handball courts. It is applied over even, smoothened concrete surfaces, asphalt surfaces and it creates elastic floorings for basketball, tennis and volleyball courts, with high absorption capacity that provides a protection from injuries.
A high quality and specifications athletic flooring, with a total thickness of 4-10mm, consisted of rubber shockpad in prefabricated rolls of thicknesses 4-8mm. After gluing the SBR rubber roll, it is necessary to apply the final sealing coating of elastic, anti-skid flooring, in a thickness of 2mm. The colours used are green, red-clay, yellow, blue or a combination of two of them, according to the G.S.S. specifications.
The acrylic system PRO FLEX. M is an exclusive represantation of CONSPORT. It is installed
over prefabricated rubber roll (PRO FLEX. M acrylic emulsion and PRO FLEX. M acrylic top coat for sport floorings) and it creates a high quality professional athletic surface. The PRO FLEX.M acrylic system for sport floorings is certified by the International Tennis Federation (ITF), classified to the medium class.
The lining of the
basketball-volleyball courts
is made with
white or coloured lines
with colours that are resistant to wear due to intense use in ultraviolet radiation, similar to the colors of the coating. They are non-skid, uniform and seamless. The surface is flexible, anti-skid, resistant to wear due to sport shoes and UV radiation, it has resilience and it is fire-resistant. The maintenance is done by means of a
simple sweep
or washing, in case it is very dirty. Generally the
acrylic elastic sports flooring
is cleaned by natural rainfall.
*The SBR rubber roll is supplied in a variety of thicknesses. Recommended: 4mm.